API Plan 62
API Plan 62
Quench stream from an external source to the atmospheric side of the seal faces. The quench stream can be low pressure steam, nitrogen or clean water.
A Valve
B Check valve
C Drain
---
Seal chamber details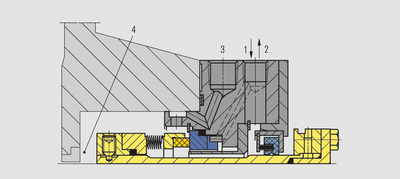 1 Quench (Q)
2 Drain (D)
3 Flush (F)
4 Seal chamber

Example seal: EagleBurgmann MBS682 single metal bellows mechanical seal.
---
P&ID according to API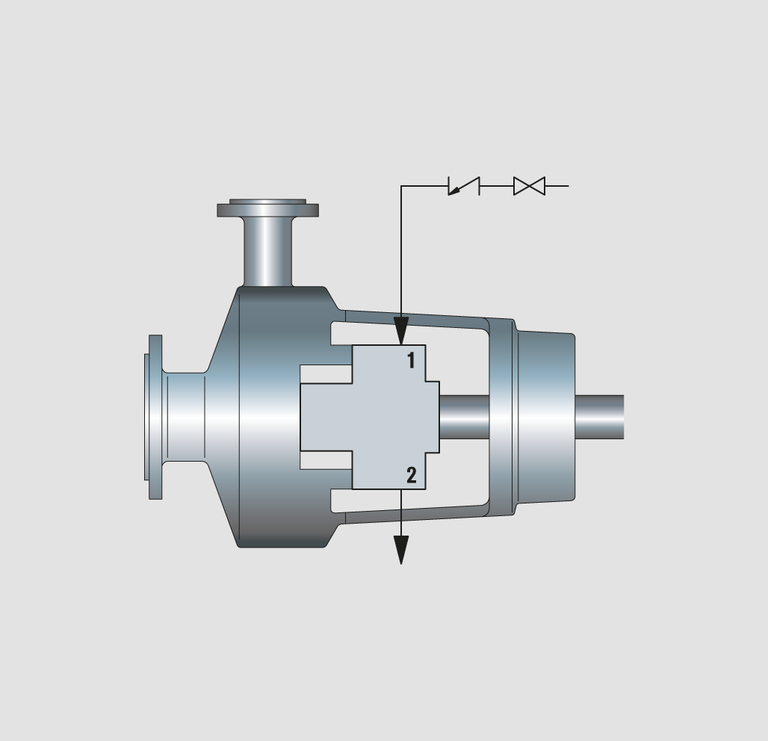 Key
1 Quench (Q)
2 Drain (D)
Features
The quench fluid cools the seal faces from underneath and also reduces coking and oxidation of the media by creating a barrier between the seal faces and the atmosphere.
Flushes away built-up material or solids underneath the seal faces.
Uses water, steam or nitrogen.
Applied with or without quench baffle.
Application
Used with steam to avoid coking or crystallization in hot hydrocarbon services.
Used with nitrogen to avoid icing in cryogenic services.
Used for services that tend to salt out e.g. caustic and salt services.
Applied at horizontal as well as vertical pumps.
Remarks, checkpoints
It has to be ensured that a close clearance throttle bush is fitted on the atmospheric side of the seal.
Quench pressure to be maintained between 0.2 to 0.3 barg (2.9 to 4.3 PSIG).
Pump media characteristics
High temperature
Leakage may form solids
Cryogenic
Configurations
1CW-FL, 1CW-FX

2CW-CW*, 3CW-FB*, 3CW-BB*, 3CW-FF*
* Remark: The configurations listed for each individual piping plan are to be understood as recommendations including possible utilizations which may also be applied.